New 1-18-08/Cloverfield Trailer And Title, Christmas Speed Racer Trailer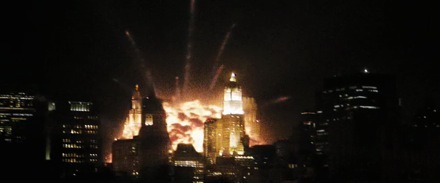 I've been hearing in the past couple weeks from a number of sources that a new 1-18-08/Cloverfield movie trailer will premiere in front of Beowulf on November 16th. Our friends at ComingSoon seem to be pretty sure that this is actually true. I mean, it does makes sense as it's Paramount big film before the release of the JJ Abrams-produced monster movie. Will the movie be called 1-18-08? Cloverfield? Overnight? We might find out on November 16th.
SciFi has also learned that a Speed Racer trailer will be released sometime around Christmas.
"...it's pretty spectacular. So you'll see it pretty soon," said producer Joel Silver.
I'm guessing that the trailer will be attached to National Treasure: Book of Secrets or Sweeney Todd. The Disney sequel seems more likely as Speed Racer is rated G.