Alanis Morissette Knows Philip K. Dick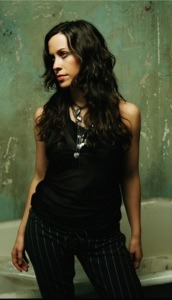 Who would have ever thought that singer/songwriter Alanis Morissette would become a film actress? Sure, she did do a stint on the Nickelodeon television show You Can't Do That On Television (you know, the one with the green slime that falls from the ceiling?). And she also made a brief, but fun appearance as GOD in Kevin Smith's Dogma. And now Alanis is going to become a character in a Philip K. Dick's life.
Morissette has been cast as Sylvia in Philip K. Dick's semiautobiograhical feature adaptation "Radio Free Albemuth." According to The Hollywood Reporter, Sylvia is...
"...a woman who shows up in the vision of a record label executive named Nick (Jonathan Scarfe) as a glamorous singer. In reality, she's an ordinary woman in unexpected remission from lymphoma who, after appearing in Nick's visions, gets a job as his secretary. She becomes his soul mate thanks to the pair's shared spirituality and visions."
Dick's 1976 novel Radio Free Albemuth (originally titled VALISystem A), is loosely based on his own experience with visions in the mid-'70s. When the publishers, Bantam, requested extensive rewrites he canned the project. The book was later released to the public in 1985. Radio Free Albemuth is now filming in Los Angeles.