Rumor: Josh Lucas Cast As Captain Christopher Pike In Star Trek?
A couple days ago we ran a rumor that Kirk is NOT the Captain of the Enterprise in the new JJ Abrams Star Trek prequel/reboot (or at least for the first half of the film). We have yet to get a 100% confirmation on this rumor, but most people in the know believe this to be true. But Paramount has yet to announce the casting of Christopher Pike in last week's casting announcements. IESB believes that a pre-injury Captain Pike may be played Josh Lucas.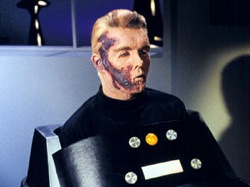 Lucas played Craig McDermott in American Psycho, and has been more recently seen in A Beautiful Mind, Poseidon, Glory Road, and Stealth. Keep in mind, that also has not been confirmed. Paramount and Lucas' reps are apparently not returning phone calls, so take that for whatever might be worth.
Pike, played first by Jeffrey Hunter, was a Captain in the original Star Trek pilot, which was rejected. The character appeared in a later episode titled "The Menagerie" (played then by Sean Kenney). Pike is the first Captain of the Enterprise recognized in Star Trek canon (to go into the non-canon background would be boring). The character was severely injured while rescuing several cadets from a baffle plate rupture onboard a J-class training vessel, and appeared in "The Menagerie" confined to a wheelchair. The delta ray radiation made him mute and badly scarred, so the wheelchair is operated by brainwaves. Pike communicated through a light on the chair: one flash meaning "yes" and two flashes indicating "no".