Sequel Talk At Scream Awards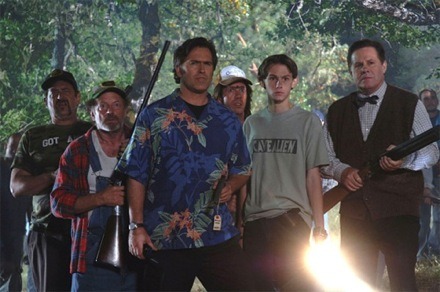 Spike TV's Scream Awards took place this weekend (the show airs on television on October 23rd at 10:00pm) and a few industry folk showed their faces and talked about some possible upcoming movie sequels. Our friends at Bloody Disgusting have full coverage, but here is a rundown of the cool tidbits:
Edgar Wright says that if they make a Hot Fuzz sequel the title will probably be Hot Fuzz 2: Pigs in the City. He also revealed that he will in fact be directing a trailer for Eli Roth's Trailer Trash, but it won't be a sequel to DON'T (but now that you mention it, what a great idea).
Bruce Campbell announced that Image Entertainment is releasing My Name is Bruce in select theaters and on home video in 2008. The movie follows B Movie Legend Bruce Campbell as himself, as he is mistaken for his character Ash from the Evil Dead trilogy and forced to fight a real monster in a small town in Oregon. But the big news is that a sequel is already in the works called My Name Is Still Bruce. I'm down.