Stop-Loss Movie Trailer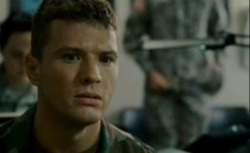 MTV has the trailer premiere for Kimberly Peirce's Stop-Loss. Ryan Phillippe returns to Texas after a tour in Iraq, but when he is ordered to return for another tour of duty, he refuses. The film co-stars Channing Tatum, Joseph Gordon-Levitt, Timothy Olyphant and Abbie Cornish.
While the America seems to be getting sick of the "Iraq War" series of movies, this one somehow seems more poignant than most.
Peirce's last film, 1999's Boys Don't Cry was critically acclaimed, and even won an Academy Award for star Hilary Swank. Check out the trailer after the jump.
Stop-Loss hits theaters on March 28th 2008.