Finding t.A.T.u. Movie Tailer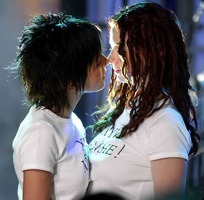 When I heard they were making a film based on the Lesbian-teased Russian pop duet t.A.T.u., I knew that it would be a disaster. Mischa Barton (The O.C.) and Anton Yelchin (Alpha Dog) star in Finding t.A.T.u., which is set against a background of music, internet chatrooms, and hedonistic Moscow nightlife.
The story follows friendless American teenager Janie Sawyer who is trying to escape her lonely life in Moscow through her love of music. Janie meets Lana Starkova on a fansite for the pop-band t.A.T.u. Trapped in a provincial Russian town, Lana is desperate to flee her mundane life and the two girls develop an instant connection. Their trip to a t.A.T.u. concert becomes the catalyst for a series of adventures that will not only test their newfound friendship, but also their ideals and aspirations.
So if that doesn't sound horrible enough, check out this new trailer that has popped up on YouTube, after the jump. I'm not sure the legitimacy of the footage, but it looks pretty bad (almost skinamax bad) and is good for a laugh or two (at not with).