Transformers On DVD: Why I Hate DVD Exclusives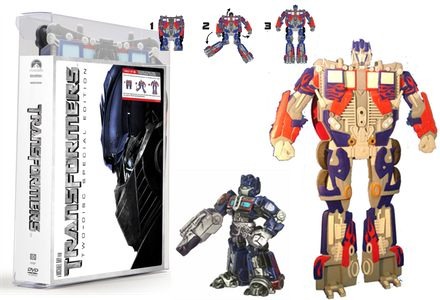 Transformers hit DVD store shelves earlier today, but before you clunk down your hard earned money at your local Best Buy, you might want to know what stores offers which DVD exclusives.
I used to collect DVDs religiously, and have a collection that fills two walls. I'm not saying this to brag, but to establish that I come from a DVD collecting background. However, in the last year, I have bought very few new DVDs. I'm not sure if it's that I just don't have the time to watch them anymore, that I use netflix, or that I've maybe lost interest in special features. But now I only buy a few DVDs a year. One thing that is really starting to piss me off are these store-exclusive dvd packages.
For example, if you buy Transfomers at Best Buy, you get two little transformer toys. You can see the Optimus Prime figure in the middle of the photo above. It looks like something that would come out of a happy meal. Yeah, Not interested – who cares.
If you buy the DVD at Target however, you do get something truly cool. The Transformers DVD case transformers into Optimus Prime (also seen above). It's something I would love to have in my collection, and here is where the problem begins: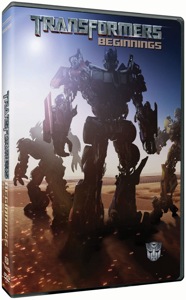 Wal-Mart is offering an exclusive 2-DVD pack which includes Transformers: Beginnings, a prequel narrated by the voice of Optimus Prime, Peter Cullen, which is described as:
See what happened before Optimus Prime and Megatron came to Earth in the stylized, action-packed prequel, Transformers: Beginnings. On their home planet of Cybertron, the Autobots and Decepticons are involved in an explosive battle over the coveted AllSpark. With the fate of the universe at stake, the Autobots send it far from the reach of the ruthless Megatron, leader of the Decepticons. But there are even more surprises in store when it crash-lands on Earth. Narrated by the voice of Optimus Prime (Peter Cullen), this gripping adventure is an essential for every Transformers fan.
I would like to buy the Transforming DVD case, but I also would like to watch the Transformers prequel. But the way it is set up, you can't have both without buying Transformers on DVD at two different stores. And yes, I understand that is the whole point. It just blows from the consumer standpoint.
Our friends at FilmSchoolRejects have round up of all the different editions (standard, special edition, hd-dvd, best buy giftset...etc), and that's not even including the store exclusives. And who knows which edition comes with the store-exclusives. In the past I have gone to a specific store for a DVD exclusive to learn that the exclusive only comes with the Full Frame edition (ick!).