Angelina Jolie Shows Off Side-Boobage On Beowulf Billboard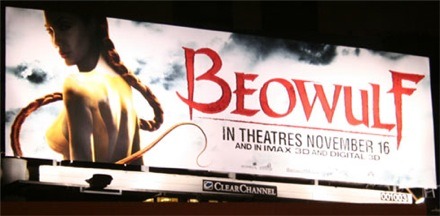 In the past, I have railed against the MPAA for their over-regulation of movie advertising, especially when it comes to red-band trailers (don't get me started). I live in San Francisco, and am not conservative by any stretch of the imagination  But I really have to wonder how a billboard for the upcoming PG-13 rated Beowulf could feature Angelina Jolie's side-boobage.
Sure, it's not really Jolie, it is a computer animated performance capture version of her, but does that really matter? Many others have wondered how such a violent film could have earned a PG-13 rating in the first place. And everyone has seen the sequence where Angelina Jolie appears on screen virtually naked (sure, mud substance cover the nipples but for all purposes, she is nude).
But it is one thing to have a near-nude sequence in a PG-13 film, but is it okay to advertise it on a billboard?
Photo Courtesy of HotBlog