Jessica Alba's The Eye Teaser Movie Trailer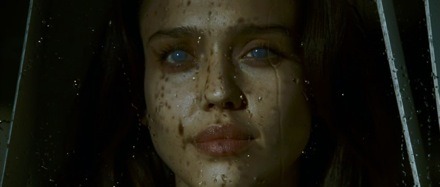 Lionsgate has released a new teaser movie trailer for The Eye starring Jessica Alba as an accomplished concert violinist who has been blind since a childhood tragedy. Sydney Wells undergoes a double corneal transplant, and her sight is restored. But unexplainable shadowy and frightening images start to haunt her. Her family and friends begin to doubt her sanity, but Sydney is soon convinced that her anonymous eye donor has somehow opened the door to a terrifying world only she can now see. Directed by David Moreau and Xavier Palud (Them), and based on the acclaimed 2002 Hong Kong horror film, which has since spawned 3 sequels.
I have yet to see the original film by The Pang Brothers (although it has been highly recommended to me by many friends), but I'm betting that the Americanized sequel is probably not nearly as good (which is usually the case with these Asian horror American remakes). Check out the trailer below. 
[flv:http://media2.slashfilm.com/slashfilm/trailers/theeye.flv 470 200]
Watch the trailer in High Definition on Yahoo! Movies. The Eye hits theaters on February 1st 2008.