Sony Announces Stage 6 Films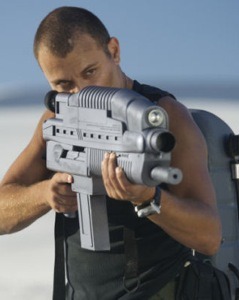 Sony Pictures have officially announced the launch of Stage 6 Films, a label that will acquire and produce lower budget films ($1 million-$10 million budget range) for theatrical and direct-to-DVD release.
Direct-to-DVD releases are all the rage now-a-days. Disney and Universal (the American Pie series) innovated a business of using and abusing proven franchises in lower budget home video prequels/sequels. So what does Sony have up their sleeves?
Starship Troopers: Marauder – The war against the Bugs continues! A Federation starship crash-lands on the distant alien planet OM-1, stranding beloved leader Sky Marshal Anoke (Stephen Hogan) and several others, including comely but tough pilot Lola Beck (Jolene Blalock). It's up to Colonel Johnny Rico (Casper Van Dien), reluctant hero of the original Bug Invasion on Planet P, to lead a team of Troopers on a daring rescue mission.
Art of War 2: Intervention – From Dungeons & Dragons director Gerry Lively, comes a sequel to the 2000 Wesley Snipes action thriller which was about an operative for the United Nations' covert dirty-tricks squad who is framed for the murder and must evade the FBI and Triad gangsters to find out what is really going on.
Center Stage 2 – A sequel to the 2000 dance drama.
As for original movies, Variety reports:
"Stage 6's initial slate include the actioner "Conspiracy," starring Val Kilmer, Gary Cole and Jennifer Esposito; the Thomas Jane acting-directing vehicle "Dark Country"; "The Stone House," a horror/thriller directed by Alex Turner and starring Shane West, J.K. Simmons and Leonard Roberts; "The Lodger," starring Alfred Molina and directed by David Ondaatje; and the thriller "Felon," which stars Kilmer, Stephen Dorff and Harold Perrineau."
So, in short, there will be a lot more crappy movies stinking up the shelves at your local blockbuster – Thanks Sony!