New Line Options The Plucker; Could This Be A Dark Toy Story?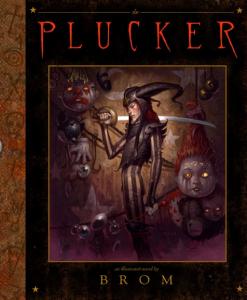 New Line has optioned Brom's first illustrated novel The Plucker for the big screen. I originally passed up this story when I was scanning the trades, but Jeff Giles from Rotten Tomatoes has made me see the potential in this concept, calling it a "dark Toy Story". Variety describes the plot:
Published in 2005 by Harry Abrams, "The Plucker" revolves around a toy jack-in-the-box that awakens beneath its owner's bed and realizes it has been relegated to a place where undesired playthings go to die. There, he discovers the Plucker, a malevolent spirit from a mysterious new toy that has evil designs on the young owner of the toys.
The book is 160 pages, full color, over-sized hardbound, with over 100 paintings. The illustrations in the book are pretty cool. I'm really down for the darker fantasy movies ala Pan's Labyrinth or the upcoming Todd Mcfarlane's Oz.
And who is this Brom guy? He's contributed conceptual artwork for a bunch of video games an movies, including: Van Helsing, the Scooby Doo films, Ghosts of Mars, Galaxy Quest, Sleepy Hallow, World of Warcraft, Diablo II and Doom II.
Producers were apparently introduced to the book by actor Channing Tatum, "who'll likely take some producing credit." I'm sure he would likely be available to provide a voice (assuming that the film will be animated).
Check out another one of the book's many cool illustrations after the jump.