Brett Ratner To Ruin Escape From New York Remake? Gears Of War Shelved?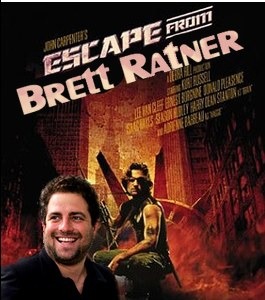 AintItCool is reporting a rumor that Brett Ratner might be replacing Len Wiseman to direct New Line's big screen remake of Escape From New York. Don't get me wrong, I'm not a huge fan of Wiseman (Underworld), but no one can argue that he knows how direct action and has a great sense of production design (something that could have benefited this remake).IESB is confirming the story is fact, which is really unfortunate. They are also reporting that Wiseman is also off of the Gears of War video game to movie adaptation, and that the film might not get made due to budget concerns (I'm sure this story will be developing quickly).
And everyone knows what I think of Ratner, which is very little. Brett Ratner is not even an okay choice for the Escape from New York remake, he is a absolute WRONG choice. Heck, even Jackie Chan was disappointed with Rush Hour 3. And that was just a crappy action movie sequel, this is Escape from New York! New Line, please say it isn't so!