Box Office Tracking: Game Plan To Edge Kingdom?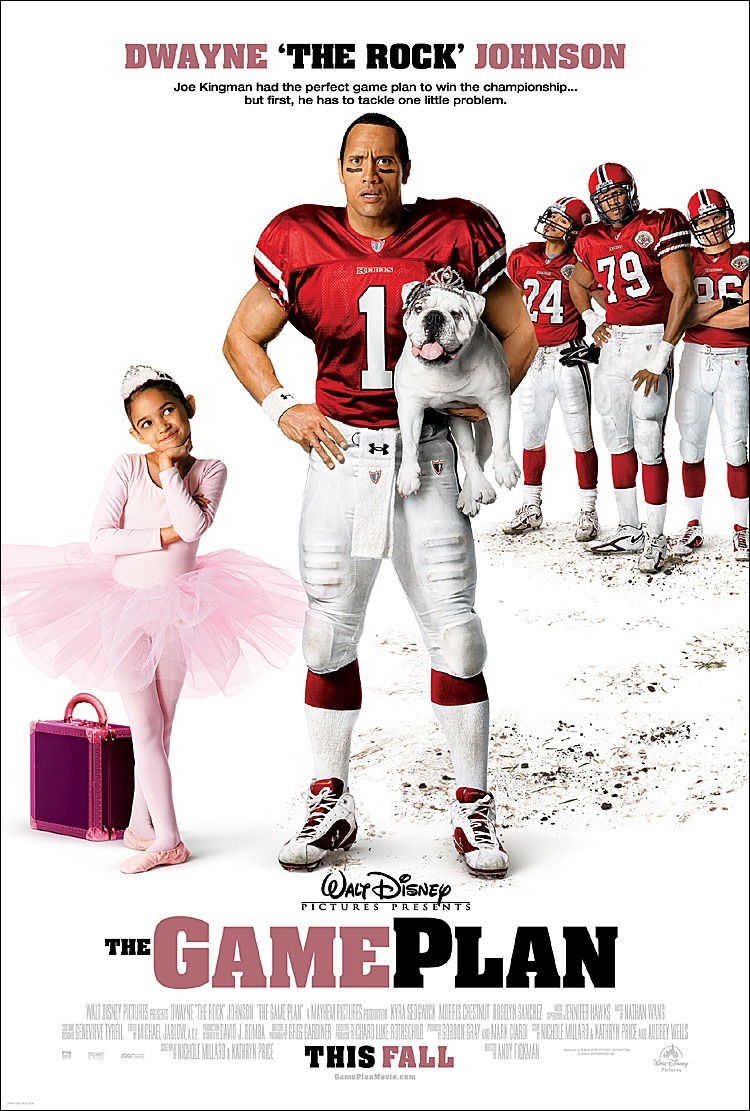 Dwayne "The Rock" Johnson will test his box office muscle this weekend with the PG-rated Buena Vista comedy The Game Plan. This guy is a charismatic screen presence, but he's apparently been "Disney-fied" according to critics. Rotten Tomatoes gives The Game Plan a Fresh score of just 36%, although MetaCritic gives it a marginally better 43% positive.
The Rock starred in 2006's Gridiron Gang, which opened to $14.4M and went on to $38.4M domestic, but industry tracking for The Game Plan is lagging some pre-opening numbers for that football drama. Gridiron opened with 16% Un-Aided Awareness compared to just 4% for Game Plan. Last fall's movie also holds an advantage in Awareness (72%-64%), but The Game Plan has more Definite Interest (40%-38%). Gridiron grabbed a better First Choice score 16%-12%, but because Game Plan is a family comedy, there are a significant number of un-surveyed kids.
Despite the football theme, Universal's Evan Almighty starring Steve Carell is probably a better comparable to get a feel for how The Game Plan will open.
UN-AIDED AWARENESS
Evan Almighty â€" 10%
The Game Plan â€" 4%
TOTAL AWARE
Evan Almighty â€" 94%
The Game Plan â€" 64%
DEFINITE INTEREST
Evan Almighty â€" 40%
The Game Plan â€" 40%
FIRST CHOICE
Evan Almighty â€" 20%
The Game Plan â€" 12%
Despite its bloated budget and becoming the biggest financial loser of 2007, Evan Almighty opened decently with $31.1M. The Game Plan won't likely be that strong, but it's fair to expect $19M-$22M, which would make it either the 2nd or 3rd best opening of Dwayne's career.
Unlike The Game Plan, The Kingdom (Universal) is a very serious film. This action pic has a political bent, and it would benefit greatly from positive reviews. Unfortunately for director Peter Berg and the talented cast, the notices are running from mixed-to-negative. On Rotten Tomatoes, The Kingdom is getting only a 50% Fresh score from America's critics, and the very best critics (Rotten Tomatoes calls them "The Cream of the Crop"), the Middle East-based pic is receiving only a 33% rating.
This is the 4th film from Peter Berg, a sometimes actor (Smokin' Aces), and his last 2 movies have been particularly successful. His first big hit The Rundown, ironically starring Game Plan star The Rock, opened with $18.5M and ultimately hit $47.7M domestic. Then the very well received Friday Night Lights grabbed $20.2M in its first 3 days, ending its run at $61.2M.
Industry tracking suggests that The Kingdom will fall well short of Foxx's best opening weekends. When it comes to R-rated action pics, Shooter starring Mark Wahlberg is the most recent and most accurate comp.
The Kingdom looks to be headed for an opening weekend just tick better than Shooter's $14.5M. There was much better Un-Aided Awareness for Shooter (12%-4%), but Total Awareness is a wash with both movies at about 70%. The Berg-directed action movie has more Definite Interest (42%-35%), and The Kingdom has a slightly stronger First Choice number (15%-11%).All of these numbers should add up to an opening of $14M-$17M for The Kingdom, which would have to be categorized as a disappointment for Universal.
The other wide release (1,200) screens is Feast of Love from MGM. This is an ensemble movie from the Oscar winning director Robert Benton (Kramer vs. Kramer, Places in the Heart). Reviews are decent with 52% Fresh at Rotten Tomatoes and 58% Positive on MetaCritic, but the meager marketing campaign doesn't seem to be doing the trick.
Despite a cast that includes Oscar winner Morgan Freeman and Oscar nominee Greg Kinnear, Feast of Love has only a 39% Total Aware, Definite Interest of 30% and a First Choice of 3%, it appears that this Feast will be lightly attended. Don't look for more than $2M-$3M.
Read more at FantasyMoguls.com.