Sally Field In Spielberg's Lincoln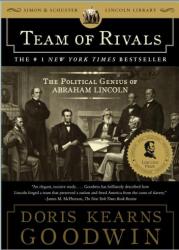 Sally Field (Forrest Gump, Mrs. Doubtfire) has signed on to play Mary Todd, the wife of the sixteenth President of the United States in Steven Spielberg's Lincoln. Based on the biography by Pulitzer Prize-winning historian Doris Kearns Goodwin (Team of Rivals: The Political Genius of Abraham Lincoln), Liam Neeson (Star Wars: Episode I, Batman Begins) will play Abraham Lincoln, as he guides the North to victory during the Civil War.
Marcia Gay Harden had long been rumored to play the first lady, who was committed to an insane asylum in her elder years after three of her four kids didn't live to adulthood, and her husband was shot as he held her hand. Sounds like a juicy role.
Tony Kushner (Munich) is currently rewriting John Logan's (Gladiator, Any Given Sunday) and Paul Webb's drafts while Spielberg films Indiana Jones IV. Filming could possibly begin as early as May 2008 (if the strike is over).
Related Links:
Source: Newsweek