Finally Confirmed: George Miller To Direct Justice League Of America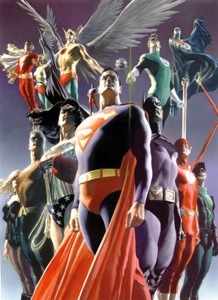 Variety has finally confirmed that George Miller (Happy Feet) will direct a big screen adaptation of The Justice League of America.
Yeah, we know, this news leaked onto the internet on August 1st, but the trade papers are slow, and Warner Bros took a while to make an official announcement. Justice League will likely feature the characters of Superman, Batman, Wonder Woman, the Flash and Aquaman. Brandon Routh and Christian Bale will most likely not be involved in this project. The studio is said to be in the preliminary stages of the casting process. They better get going if they hope to start before the strike early next year.
Variety also confirmed the rumors from IESB that the studio had explored making the film using computer generated animation, but the final decision was made to do a "special effects driven live action" movie.
The movie will go into production before the strike, and will target theaters for a 2009 rlease. So yes again, Variety has piggybacked on all the detective work that was done by the movie news website community. And Peter Bart sits in a corner smugly insulting bloggers.
The project was first announced in February 2007. Kiernan and Michele Mulroney were hired to write a big screen Justice League of America movie.
The JLA first appeared in February 1960. The original line-up consists of: Superman, Batman, Wonder Woman, Flash, Green Lantern, Aquaman and the Martian Manhunter. But the team has gown to also include Green Arrow, Atom, Hawkman, Black Canary, Captain Marvel, Plastic Man, Zatanna and others. The Jusice League spawned several cartoon television series, including the cult 1960-70's Super Friends. Justice League Unlimited is currently aired on the Cartoon Network.