Zodiac Director's Cut Is 25 Minutes Longer?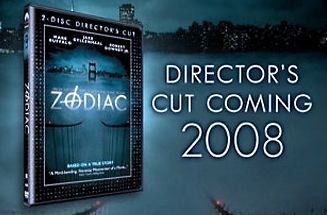 In July, we told you that David Fincher would be releasing a Zodiac directors cut on DVD in 2008. The 2-Disc collectors edition would presumably feature a longer cut than the already lengthy 158 minute theatrical cut. Jeff Wells is now reporting that the director's cut has been screened at close to 180-minutes, which is 22-25 minutes longer than the big screen version (depending on what number you believe). Wells says that one publicist was raving about the longer cut.
However, DVD Lounge is reporting that the Director Cut DVD will only be a mere five minutes longer than the theatrical cut. I'm not sure this could possibly be true, especially considering a longer cut of the film exists.
But how many people are going to plop down the cash and sit on the couch for a three hour cut of this film? Zodiac was one of my favorite films of 2007 so far, so I'm excited to see a longer cut.