Michael Bay To Jump Ship From Transformers 2 For A Pre-Strike Movie?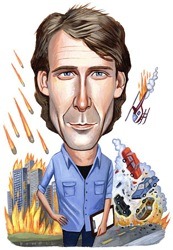 Transformers director Michael Bay says he will probably leave preproduction on a Transformers sequel so that he can work on another film before the big Hollywood strike of 2008.
'Transformers 2', well that's another story. Iching [sic] to work pre-strike (June) so I might jump ship and come back a year or so later cause people at the studio have been dragging for two months. Not sure why. I'll keep you informed."
I wonder if this film will be the Disney adaptation of Prince of Persia (which was listed on the pre-strike memo) or 2012: The War for Souls. Bay has also just screened the final IMAX cut of Transformers:
"But I just saw the first IMAX print of 'Transformers'. Not depressing – freakin AWESOME! They need to bottle the magic of IMAX because it's the future of cinema. It comes out next Friday the 21st. I added some extra scenes."