Saturday Box Office: 3:10 To Yuma w/$5.2M; Shoot 'Em Up #6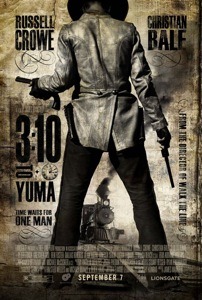 James Mangold's remake of the classic Western 3:10 TO YUMA rustled up another $5.23M on Saturday, and the well-reviewed genre pic will finish the weekend with a respectable $14.23M. That's right in line with industry expectations, but Lionsgate was almost certainly hoping for an upside surprise. That number will give YUMA the 3rd-best opening weekend for a true Western in the past 20 years, trailing only 1990's MAVERICK ($17.2M) and UNFORGIVEN, which opened to $15M back in 1992.
I suspect this picture will hold exceedingly well in coming weeks because it skews 25+, and that crowd never turns out en masse for opening weekend, but it will be an uphill battle at the box office. 3:10 TO YUMA could conceivably get to $35M domestic, but its budget was a reported $50M. Year-end recognition from critics organizations and some Golden Globe and Oscar buzz would dramatically improve the commercial prospects of this title, but it may have been released to early to hold onto many screens into the awards season.
HALLOWEEN (MGM/Weinstein) finished 2nd for the day with $3.84M, and Michael Myers is #2 for the weekend as well with an estimated $8.79M. SUPERBAD (Sony) picked up $2.9M on Saturday, and its likely $7.31M weekend lifts the Judd Apatow-produced, Seth Rogen-written comedy above the $100M mark. THE BOURNE ULTIMATUM (Universal) was 5th on Saturday with $2.44M, but the Matt Damon thriller will most likely be #4 for the 3-day with $5.89M or so. Holdover BALLS OF FURY (Rogue Releasing) was stronger than expected Saturday with $2.47M, but it appears that the ping-pong comedy will be forced to settle for 5th for this frame.
New Line's SHOOT 'EM UP was up by a few percent Friday-to-Saturday, but its estimated $2.07M made it only #7 for the day. I'm projecting that the Clive Owen-Paul Giamatti action pic will have banked $5.73M by Monday morning, making it only the 6th-best 3-day performer. That is, however, a far better fate than THE BROTHERS SOLOMON (Sony) has suffered. Playing on 700 screens, this misguided comedy will wrap the weekend with just $510,000 or $728 per location.
As for new specialty releases, the PTA winner will be a surprise. John Turturro's ROMANCE & CIGARETTES, a musical starring James Gandolfini, Kate Winslett and Susan Sarandon, opened on 1 screen on Friday, and the film has grabbed a blazing 3-day weekend PTA of $16,000. Because this movie is being released independently, I didn't catch it in time for my column Friday night. The long-shelved IDP comedy FIERCE PEOPLE will likely finish #2 in PTA followed by Thinkfilm's Oscar contender IN THE SHADOW OF THE MOON from Ron Howard, the Tibetan fantasy film MILAREPA: MAGICIAN (Luminous Velocity) and 3:10 TO YUMA.
Read More at Fantasy Moguls.