Box Office Tracking: 3:10 To Yuma Headed For $13M-$16M; Shoot Em Up Possible 2nd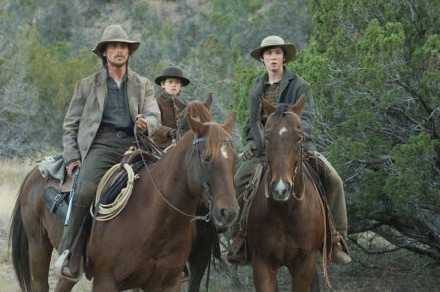 At a glance, it looks like 3:10 TO YUMA (Lionsgate) should edge SHOOT 'EM UP (New Line) for the weekend box office win, and the Western will probably carry the day, but it's less of a sure thing than you might think.
Neither movie will be a box office juggernaut. YUMA has Un-Aided Awareness of just 4% compared to 2% for the super-charged, over-the-top action pic, and the Western also has better Total Awareness 48%-44%, but, if you go inside the numbers, 60% of Under 25 Males are Aware of SHOOT 'EM UP.
Under 25 Males are "the money demo." If they say that they're interested, they will show up. Young males are incredibly reliable. Studio execs sleep well on Thursday night when their Friday release is scoring in the tracking with Under 25 Males. In terms of Overall Definite Interest, however, SHOOT 'EM UP holds a 31% -29% advantage.
Still in the First Choice column, 3:10 TO YUMA is at 11% compared to 5% for SHOOT 'EM UP. Among Males Under 25, SHOOT 'EM UP leads 10% to 9%, but the James Mangold-directed Western remake leads the other 3 First Choice demos (Males 25 Plus â€" 23%-6%, Females Under 25 â€" 3%-2%, Females 25 Plus â€" 9%-1%).
So, YUMA skews much older. Let's call them "the John Wayne generation." If you're old enough to have seen TRUE GRIT in theatres (60+), you're thrilled about 3:10 TO YUMA, and it might be the first movie you see all year. (I know he won the Oscar in 1969 for it, but this was far from being a quintessential John Wayne Western), If you were old enough to have seen Clint Eastwood's Oscar winning UNFORGIVEN in theatres (30+), you definitely might see Russell Crowe and Christian Bale this weekend. But, if SHANGHAI NOON is your idea of a Western, you're more likely to buy a ticket to see SHOOT 'EM UP instead.
I'd love to think that the Western can make a comeback, but, realistically, the genre has been dormant for a very long time.
Before anybody complains, BROKEBACK MOUNTAIN is not a real western. It's a great film, but not a Western. I'm also excluding movies like SHANGHAI NOON and BACK TO THE FUTURE PART III, because, although they are technically Westerns, they have nothing to do with the genre.
TOP 10 OPENING WEEKENDS FOR WESTERNS RELEASED IN THE PAST 20 YEARS
1. Maverick (1990) – $17.2M
2. Unforgiven (1992) – $15M
3. Open Range (2003) – $14M
4. The Missing (2003) – $10.8M
5. Young Guns II (1990) – $8M
6. Wyatt Earp (1994) – $7.5M
7. Young Guns (1988) – $7M
8. The Quick & the Dead (1995) – $6.5M
9. Posse (1993) – $5M
10. American Outlaws (2001) – $4.8M
*Dances with Wolves (1990) â€" 14 screens – $600,000
Can the Western be relevant for a new generation of movie fans? I'd love to think so. 3:10 TO YUMAÂ  is a terrific film featuring 2 of our best actors. It's riding a wave of positive reviews, and the word-of-mouth is very positive. I'm forecasting $13M-$16M for this excellent Western, and I think it will have very good legs. (The 25 Plus crowd never turns up en masse on opening weekend. They'll "trickle" in for weeks.)
Meanwhile, WAR (Lionsgate), released just a couple of weeks ago on August 24, is a pretty decent comparable for SHOOT 'EM UP. The Jason Statham-Jet Li action flick opened with a $9.8M weekend, and it actually had slightly better tracking than SHOOT 'EM UP on its opening day.
WAR leads SHOOT 'EM UP in Total Awareness 59%-44%, Definite Interest 37%-31% and Overall First Choice 5%-2%. Still, that weekend was much more crowded with 4 other wide releases (3 if you leave out the pathetic SEPTEMBER DAWN). Given all of this, I say that SHOOT 'EM UP is headed for $8M-$11M and a 2nd place finish for the 3-day, likely holding off a fast-fading HALLOWEEN.
The other new wide release (about 650 screens) is THE BROTHERS SOLOMON from Sony/Screen Gems. This is a classic "dump" for Sony. It's Bob Odenkirk's follow-up to last year's disastrous LET'S GO TO PRISON ($4.6M cume). It's been a precipitous fall for Odenkirk, whose MR. SHOW WITH BOB & DAVE is considered a classic.
THE BROTHERS SOLOMON has only 32% Awareness, 16% Definite Interest and a 2% First Choice. With these tracking scores, this comedy, written by and starring SATURDAY NIGHT LIVE's Will Forte, will probably finish in the $2M-$5M range.
Read More at Fantasy Moguls.