Box Office: Halloween Huge $10.5M Friday, Headed For $35M 4-Day Weekend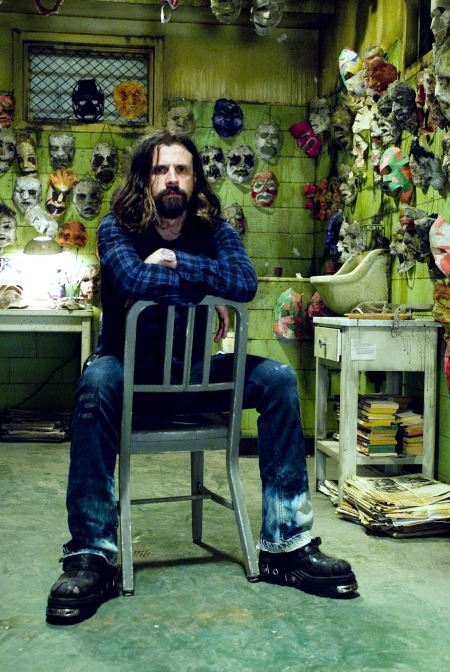 Michael Myers has returned from the dead to slaughter all box office competition. The all-new MGM/Weinstein version of HALLOWEEN has exploded for an estimated $10.5M on Friday, and it's headed for a 3-day of $30M and a spectacular 4-day Labor Day weekend of $35.775M.
The success isn't a complete surprise. Director Rob Zombie has scored successes with low budget slasher flicks HOUSE OF 1,000 CORPSES ($12.6M domestic) and THE DEVIL'S REJECTS ($17M cume), and, after seeing the heavy metal rocker's version of the 1978 John Carpenter classic, Bob and Harvey Weinstein signed Zombie to a 2-picture deal. Plus, as I reported in my Final Weekend Tracking column, HALLOWEEN opened with Total Awareness of 82% in the industry's audience tracking along with 36% Definite Interest and a First Choice of 13%. I suggested that this could be a 4-quadrant hit since it opened the day with an 11% First Choice with Males 25 Plus and an 10% First Choice with Females Plus. I wrote that, "There will be a wave of nostalgia, but it won't be a tsunami." I predicted $25M+, but there is now a tsunami warning in effect.
HALLOWEEN will easily become the all-time #1 4-day Labor Day weekend champion, but who could have guessed that it would come in 44% above previous record-holder Transporter 2?
TOP 10 4-DAY LABOR DAY WEEKENDS
1. Halloween – $35.775M (projected)
2. Transporter 2 – $20.1M
3. Jeepers Creepers 2 – $18.3M
4. Jeepers Creepers – $15.8M
5. Crank – $12.8M
6. The Wicker Man – $11.7M
7. The Constant Gardener – $10.9M
8. The Crow: City of Angels – $9.7M
9. First Kid – $8.4M
10. Hoodlum – $8.1M
This will easily be the best 3-day opening weekend of the 9-film Michael Myers franchise.
TOP 3-DAY OPENING WEEKENDS FOR MICHAEL MYERS MOVIES
1. Halloween (2007) – $30M (projected)
2. Halloween: H2O (1998) – $16.1M
3. Halloween: Resurrection (2002) – $12.2M
4. Halloween II (1981) – $7.4M
5. Halloween: The Curse of Michael Myers (1995) – $7.3M
Also as expected, Michael Myers has become the all-time #4 grossing "killer" franchise in modern box office history, surpassing Jigsaw from the SAW trilogy and trailing only Hannibal Lecter, Jason (Friday the Thirteenth) and Freddy Krueger.
TOP 5 GROSSING "KILLER" FRANCHISES
1. Hannibal Lecter from Silence of the Lambs – 5 films – $425.2M
2. Jason from Friday the Thirteenth – 11 films – $315.6M
3. Freddy from Nightmare On Elm Street – 8 films – 307.4M
4. Michael Myers from Halloween – 9 films – $250.5M (includes 4-day projection)
5. Jigsaw from Saw – 3 films – $222.5M
Overall, this will be a very strong holiday weekend. SUPERBAD (Sony) has added another $3.5M, but after losing a huge bite to HALLOWEEN Friday, my sources say it will bounce back for a $13.5M 3-day weekend and a terrific 4-day of $17M.
BALLS OF FURY (Rogue Releasing) grabbed a decent $3.4M on Friday, bringing its 3-day cume to $6.3M. The poorly-reviewed Christopher Walken comedy is headed for a 3-day of $10.5M and a 4-day of $12.4M. THE BOURNE ULTIMATUM (Universal) was 4th on Friday with $2.6M, and it'll bank an additional $10M by the end of Sunday business and $13M by Tuesday morning. RUSH HOUR 2 (New Line) picked up another $2M, and it'll finish #5 for the 3-day ($8M) and the 4-day ($10.2M).
Among other new releases, DEATH SENTENCE (Fox), from SAW creator James Wan, struggled to $1.6M on its opening day. That will translate to a long weekend of only $6.6M. The results were much better for the Spanish-language caper movie LADRON QUE ROBA A LADRON (Lionsgate). Debuting at just 340 locations, LADRON scored about $440,000 or a PTA of $1,300. Its 3-day has a chance to approach $1.5M and it could have $1.8M banked by Tuesday morning.
In the specialty film market, THE NINES (NewMarket Films), a favorite from January's Sundance Film Festival, opened on 2 screens and delivered almost $10,000. Riding excellent reviews, THE NINES will likely finish the weekend with approximately $48,000 or about $24,000 per location. Thinkfilm's SELF-MEDICATED, on the other hand, limped to about $11,000 on 16 screens. That's a PTA of only $680 for Friday, and the edgy teen drama will almost certainly finish the weekend with less than $50,000.
Read more at FantasyMoguls.com.