Box Office Tracking: Halloween Headed For Labor Day Record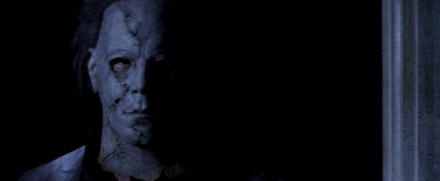 Michael Myers is ready to slash his way to an all-time 4-day Labor Day weekend record, and, by Monday, he'll pass Jigsaw to become the 4th-biggest grossing movie "killer" in modern box office history.
The original 1978 John Carpenter film HALLOWEEN is, for my money, the scariest of all scary movies. Donald Pleasance is just over-the-top enough when the nurse says, "Don't you think it would be better if you referred to 'it' as a 'him'?, and, as Doctor Loomis, he responds, "If you say so." And the moment where Jamie Lee Curtis says, "I killed him" and the little boy
says, "You can't kill the boogie man" is classic.
No official reviews available for Rob Zombie's new version of HALLOWEEN (MGM/Weinstein). Quint from 'Aint It Cool News says that user reviews from screenings and bootlegs are love-hate 50/50. He also, correctly, points out that the Weinsteins are thrilled with Zombie, and Bob and Harvey have signed him to a 2-picture deal.
That being said, it's always dangerous to remake classic, and HALLOWEEN is a bit of a high wire act, but this movie is going to open huge. I reviewed tracking with a well-placed source today, and even they were surprised at the apparent strength. This slasher pic isn't just scoring with Under 25's. The 25 Plus crowd may be showing up.
SAW III (Lionsgate), which opened to $33.6M last October, is a very good comparable. The most recent chapter of the twisted James Wan/Leigh Whannell horror series was stronger in almost every category on its opening day than HALLOWEEN is now, but 'ole Mike Myers is giving Jigsaw a run for his money.
The Lionsgate sequel had Un-Aided Awareness of 22% compared to a very strong 13% for HALLOWEEN. The Rob Zombie remake actually leads SAW III in Total Awareness 82%-73%, but that's a function of the legendary status of the original. The 3rd movie featuring Jigsaw leads in Definite Interest 46%-36% and in the First Choice column 20%-13%, but HALLOWEEN has a First Choice with Males 25 Plus of 11% and Females 25 Plus of 10%.
Is a 4-quadrant horror movie possible? To some degree, yes, but this is Rob Zombie (THE DEVIL'S REJECTS), and this picture has a strong R rating. Mom may have gotten a great scare out of Jamie Lee and Mike 30 years ago, but she's not necessarily going to bring the kids to the mall to see this one. There will be a wave of nostalgia, but it won't be a tsunami.
I'm targeting $23M-$26M for HALLOWEEN, which would be a record-breaking 4-day Labor Day weekend, surpassing 2005's TRANSPORTER 2 from Fox. It will easily post the best opening weekend in the 8-film history of the franchise, and, interestingly, Michael Myers will pass Jigsaw to become the all-time 4th-best grossing movie killer/slasher. (Jigsaw will almost certainly retake #4 on the list sometime this fall with Saw IV opening on October 26.)
The tracking for BALLS OF FURY (Rogue Releasing) is actually stronger than its opening Wednesday of $1.7M. Its Un-Aided Awareness was 5%, which is a bit of a commercial pulse, but there were no long lines at America's multiplexes on opening day. Critics are not being kind, but that's not exactly a surprise. BALLS has a 29% Fresh rating at Rotten Tomatoes and it's 37% positive at MetaCritic.com, but they didn't make this movie for the Ebert & Roeper crowd. This is the BEERFEST or DODGEBALL of ping-pong. That's a huge range. BEERFEST opened with a 3-day of $7M back in 2006 and went on to gross a mere $19.1M. Meanwhile, DODGEBALL opened to $30M and became a phenomenon with $114.3M domestic.
The most recent dumb sport-themed movie was HOT ROD starring Andy Samberg. Despite debuting on over 2,000 screens, it managed only $5.3M on opening weekend, and, to-date, it has registered just $13.6M in domestic ticket sales. BALLS OF FURY is showing up dramatically stronger than HOT ROD in industry tracking with a 67% Total Aware vs. 42%, 34% Definite Interest vs. 25% and it's got a 10% First Choice vs. 0% for HOT ROD.
My hunch is that Rogue's soft Wednesday opening isn't a great predictor of the weekend performance for BALLS OF FURY ($1.7M on Wednesday could be pointing toward a 4-day of $10M). Instead, I'm looking for a marginally better 4-day Labor Day weekend of $12-$15M, which would actually make it one of the All-Time Top 5 4-day Labor Day weekends (still not impressive). BALLS will likely turn in a 6-day (Wed thru Sun) of $15M -$18M.
That brings us to the hardly-marketed DEATH SENTENCE (Fox), which has been screened for virtually nobody. SAW co-creator James Wan is the director of his Kevin Bacon film, and those in the industry will likely view this as strike 2" for him. (The first "strike" was Universal's spring horror flick EAD SILENCE.)
The tracking says that only 42% of the movie-going public has ever heard of the film, and with Definite Interest of just 30% and a First Choice number of 4%, it won't take long for this one to show up at the local Blockbuster. I'm not looking for more than $3M-$6M in its opening 4 days.
For the complete Box Office Tracking report go to FantasyMoguls.