Breaking: Owen Wilson Suicide Attempt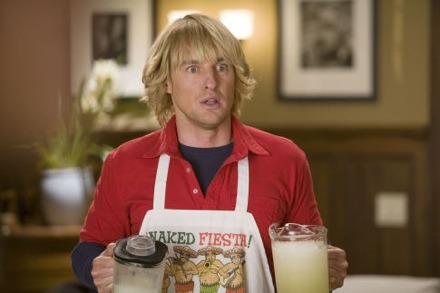 We usually stay away from reporting on the private lives of movie stars, but this one came as a huge shocker. The National Enquirer and Star magazine are exclusively reporting that Owen Wilson tried to commit suicide on Sunday and has now been transported to St. John's hospital in Santa Monica. Police and ambulance responded to a 911 call from Wilson's house in Los Angeles on Sunday early afternoon. TMZ is reporting that the 911 call came in at 11:59 a.m. to the L.A. Fire Department. A family member discovered the star and made the call. Sources tell the magazines that Wilson sliced his left wrists and took an indeterminate amount of pills. The Enquirer says that Wilson's wrist was stitched and bandaged at the hospital, and that Wilson would "be detoxed."
Let's hope he gets better real soon. I always find it tremendously sad that someone of such success and stature can still be as depressed as the homeless man I pass on 4th street every day. I've been following his career since Bottle Rocket and I still believe that Wilson is one of the best comic actors working today. His latest film, The Darjeeling Limited is due to hit theaters on September 29th.
Update: The Santa Monica Police have issued the following statement: "On Sunday Aug. 26. 2007 at 12:10 pm officers from the Santa Monica Police Department responded to a medical assistance call from the Santa Monica Fire Department at the 900 block of 23rd Street. The person was transported to a local hospital where they are being treated." Citing medical privacy laws, the police did not release any further information.
Monday Update: The actor released a statement through his publicist on Monday:
"I respectfully ask that the media allow me to receive care and heal in private during this difficult time."