Contest: Tutankhamun And The Golden Age Of The Pharaohs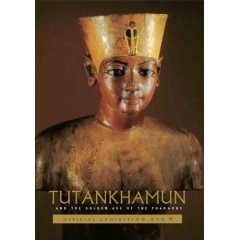 Tutankhamun and the Golden Age of the Pharaohs hit DVD store shelves on July 10th, and we have a copy for one lucky /Film reader. All you need to enter is to e-mail us with the reason why you should win. On August 9th we will e-mail the winners with the best answers. More information on the release can be found after the jump.
In 1976 a collection of 55 treasures from the tomb of the Pharaoh Tutankhamun left the Cairo Museum en route to the United States, taking the country by storm and introducing millions of Americans to these wonders of the ancient world.  Now, Egypt has granted another opportunity for us to view such treasures, and again, spectators are mesmerized. Tutankhamun and the Golden Age of the Pharaohs DVD is hosted by Omar Sharif and includes interviews with Dr. Zahi Hawass, Secretary General of the Supreme Council of Antiquities in Cairo Egypt, as well as may other individuals that were instrumental in organizing this exhibit.
The DVD â€" hosted by the legendary Omar Sharif – draws you into the exhibit, where viewers will come face to face with Tut's contemporaries, see and hear about the fascinating times in which the young king lived and learn how his short reign changed history. This DVD gives you an up-close and incredibly detailed look beyond the shimmering gold and beautiful treasures â€" isolating each piece with multiple camera angles, and beautiful moving images. The DVD also features National Geographic images and film footage about the golden age of the pharaohs as well as information on cutting-edge research into the life and death of Tutankhamun.