Friday Box Office: SuperBad #1 Again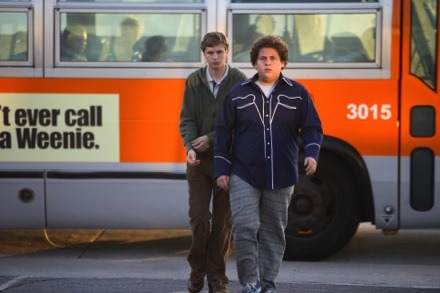 The raunchy Judd Apatow-produced teen comedy SUPERBAD will, as expected, hold off flock of "lame duck" releases for a second consecutive weekend win. Written by KNOCKED UP star Seth Rogan and directed by Greg Mottola (THE DAYTRIPPERS), SUPERBAD added another $5M on Friday, bringing its 8-day cume to $55.5M. I'm targeting a 15.5M 3-day, which would be an estimated 53% weekend drop.
The rest of the top 5 is a photo finish both for the day and the weekend, but I'm giving the Lionsgate action pic WAR the Friday edge with approximately $3.4M, followed by THE BOURNE ULTIMATUM (Universal) with $3.3M, Universal's MR. BEAN'S HOLIDAY with a better-then-expected $3.25M and holdover RUSH HOUR 3 (New Line) with an estimated $3.2M. Currently, I'm calling for BOURNE and RH3 to finish #2 and #3 for the weekend with $12.1M and $11M respectively. Rowan Atkinson's BEAN will likely finish fourth with $10M, and the Jason Statham-Jet Li flick will finish with a softer $9.7M. (This is a jumbled field, and there's probably a higher margin of error in these 3-day numbers than usual.)
As for the other new wide releases, THE NANNY DIARIES (MGM/Weinstein) will miss the top 5 altogether. The Scarlett Johansson vehicle managed only $2.8M on Friday, and it's headed for about $7.8M by Monday morning. The well-reviewed RESURRECTING THE CHAMP (Yari Film Group) opened in disappointing fashion with just $500,000 on opening day and $1.5M or so for the weekend. That's a 3-day PTA of just under $1,000. Universal's ILLEGAL TENDER is on a more limited 512 screens, and it grabbed an estimated $450,000 on Friday, which will translate to a possible $1.3M weekend. That would be a solid $2,500+ PTA.
Finally, the misguided SEPTEMBER DAWN (Slowhand Releasing), a dark western about a brutal massacre in the mid-19th
century starring Jon Voight, sold just under $200,000 in tickets on Friday, and it will struggle to a tick better than $700,000 for its opening 3-day.