DJ Caruso Talks Y: The Last Man: Script Details And Casting Shia LaBeouf?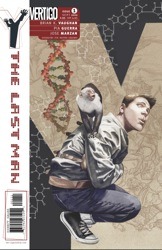 When it was announced that D.J. Caruso had signed on to direct a big screen adaptation of Brian K Vaughn's Y: The Last Man, we speculated that Shia LaBeouf might be playing the lead. Shia had made statements in the past expressing interest in the project. Not only that but DJ Caruso directed him in Disturbia and the upcoming Eagle Eye. So there is a strong connection between the director and star. MTV was able to speak to the director about the possibility, and this is what he said:
"This is funny, but unbeknownst to me: Shia was already chasing this part prior to anything," Caruso said. "I haven't talked to him yet about it because he's off shooting 'Indiana Jones 4,' but Shia is the right type and the right personality because you want to have the humor, but you also want to have the seriousness. So we'll talk about it when we get there."
It was also revealed that the film version will focus on the first 12 issues of the comic book series, "sort of combining them into a beginning, middle and end. The problem is that even in the first 12, there is so much great stuff, it's like, what do you leave out? There really isn't a ticking clock with Yorick, so what we basically did was give him a reason to get from Boston to California in a really short time."
Y: The Last Man is probably the best non superhero comic book series running today. The story follows Yorick Brown, a young amateur escape artist, and his Capuchin monkey, Ampersand, the last two men on Earth. Something (speculated to be a plague) simultaneously kills every mammal possessing a Y chromosome – including embryos, fertilized eggs, and even sperm. Society is plunged into chaos as infrastructures collapse and the surviving women everywhere try to cope with the loss of the men. Yorick goes on a mission to find his girlfriend Beth, who was on vacation in Australia.
The Y: The Last Man series will end (as planned) with a double sized issue #60 early next year.