American Gladiators To Return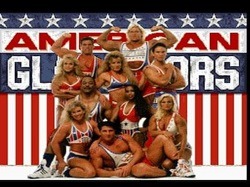 Okay, I know this isn't movie news. It's barely entertainment news. But it's a slow news day and I'm, for some odd reason, excited. NBC has decided to resurrect the early 90's classic television game show American Gladiators!
I wonder if Nitro, Turbo and Laser will return? They're probably too old now... According to Variety, the new version will be updated with new technology and twists. VP of Alternative Programing says that the show will add more reality focus to the show, focusing on the characters and behind-the-scenes stories of the contestants.
The new show feature eight gladiators, four men and four women. And this time around the players will be given the opportunity to train for their match, which is where the reality television stuff will come in. Let's hope they don't ruin it.