Early Box Office Tracking: War, Nanny Diaries, Mr. Bean, September Dawn, 3:10 To Yuma, Shoot 'Em Up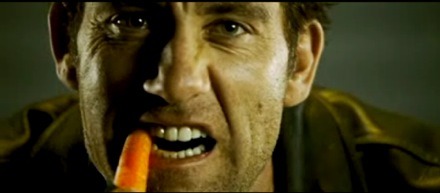 This coming weekend (8/24-26) offers 5 movies, and 1 of them stands out in early industry tracking. WAR (Lionsgate), from rap video director Phillip J. Atwell (he's worked with 50 Cent, Xzibit and Eminem), is at just 45% Total Aware, but its Awareness with Males Under 25 is 64%. The Let Li/Jason Stathan action flick has the best Definite Interest of the 5 new releases with a decent 36%. Again, Under 25 Males lead the way as 42% say that they are interested. If Lionsgate plays this right with 2,200 screens and a late TV push, $10M-$12M is likely and $15M is a possibility.
MGM/Weinstein's THE NANNY DIARIES has a Total Aware of 55%, but 67% of Females Under 25 and 72% of Females 25 Plus know about it. Based on the bestselling novel by Emma McLaughlin an Nicola Kraus and starring Scarlett Johansson, Laura Linney, Chris Evans and Paul Giamatti, this picture has a slight chance of an upside surprise, but with Definite Interest is at just 21% (Males Under 25 â€" 6%, Males 25 Plus â€" 10%, Females Under 25 â€" 34%, Females 25 Plus â€" 23%) it looks like it'll open somewhere between IN THE LAND OF WOMEN ($4.7M) and BECAUSE I SAID SO ($13.1M).
I can't quite figure out who the audience for MR. BEAN'S HOLIDAY (Universal) and SEPTEMBER DAWN (Slowhand Releasing). On just under 1,600 screens, the Rowan Atkinson comedy has dim prospects with that deadliest of tracking scenarios â€" good Awareness (61%) with low Definite Interest (19%). Hard to imagine more than $5M-$8M for this HOLIDAY. Meanwhile, Jon Voight is the star of the late summer feel-good period Morman massacre film from Slowhand. 850 screens is very ambitious, but probably not warranted. SEPTEMBER DAWN's Total Aware is just 17%, its Definite Interest is 13%, and it has a 0% First Choice. This one is doomed to a $1M-$3M opening.
The tracking isn't especially food for Yari Film Group's RESURRECTING THE CHAMP starring Josh Hartnett, Samuel L.Jackson, Alan Alda and Teri Hatcher, but this Rod Lurie-directed film is getting spectacular reviews reminiscent of last summer's Yari pic THE ILLUSIONIST. This awards-caliber movie is hitting 1,550 locations Friday, and its 35% Total Aware and 26% Definite Interest will improve thanks to a slew of positive reviews. CHAMP has a chance to score in the $4M-$7M range for its opening 3-day.
Variety has weighed in on 3:10 to Yuma (Lionsgate), and it's a good solid review from Todd McCarthy with raves for Russell Crowe, Christian Bale kid actor Logan Lerman and Peter Fonda. Meanwhile, Michael Rechtshaffen from the Hollywood Reporter is also very positive.
3:10 TO YUMA is set for wide release on September 7, but New Line's SHOOT 'EM UP, starring Clive Owen, Paul Giamatti and Monica Belucci, is also going wide that day and seems to have more early traction in industry tracking. SHOOT 'EM UP is at 25% Awareness (Males Under 25 â€" 36%, Males 25 Plus â€" 27%, Females Under 25 â€" 19%, Females 25 Plus â€" 17%) compared to 20% for YUMA (Males Under 25 â€" 18%, Males 25 Plus â€" 33%, Females Under 25 â€" 11%, Females 25 Plus â€" 18%). The New Line action pic wins in Definite Interest in a walk 32% (Males Under 25 â€" 35%, Males 25 Plus â€" 37%, Females Under 25 â€" 23%, Females 25 Plus â€" 26%) to just 23% for the western (Males Under 25 â€" 20%, Males 25 Plus â€" 27%, Females Under 25 â€" 17%, Females 25 Plus â€" 20%).
It's still 2 1/2 weeks until this showdown happens with "guns a blazin'," but right now SHOOT 'EM UP has the edge. My hunch is that more reviews like those of McCarthy and Rechtshaffen will drive a late surge in the tracking and still lift YUMA to a weekend win.
Read More at Fantasy Moguls.com.