Contest: Roving Mars On DVD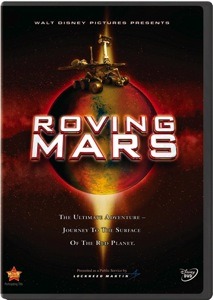 Roving Mars hit DVD store shelves on July 31st, and we have a copy for FIVE lucky /Film readers. All you need to enter is to e-mail us with the reason why you should win. On August 9th we will e-mail the winners with the best answers. More information on the release can be found after the jump.
Experience Mars like never before when the visually stunning IMAX documentary, ROVING MARS, sets down on DVD and Blu-ray Disc July 31st from Walt Disney Home Entertainment.  Perfect for science and space enthusiasts, plus anyone looking for an entirely unique experience, ROVING MARS is accompanied by bonus features on a galactic scale, including "Mars and Beyond".
Originally presented on IMAX screens in 2006, ROVING MARS received excellent reviews for its captivating account of the 2003 Mars Rover mission in which two robots-named Spirit and Opportunity-were sent to explore the red planet. The documentary begins with the development of the machines by a team of dedicated scientists and chronicles the project through to the stunning images of Mars sent back from the unmanned explorers.
Stellar DVD and Blu-ray Disc bonus features include "Mars and Beyond". Hosted by Walt Disney, this 1957 television special is a look into the scientific knowledge about space from that era. Also included is "Mars: Past, Present & Future", a new feature developed for this release which includes personal reflections on Mars from the filmmakers, JPL Rover team members and students from the "Imagine Mars" program.
ROVING MARS won the 2007 Visual Effects Society Award for Outstanding Visual Effects in a Special Venue Project and is directed by award winning veteran documentarian George Butler, who is also responsible for 1977's "Pumping Iron" and "The Endurance" (2000).
Check out some clips from Roving Mars:
Roving Mars – Clip: Exploring – :29Roving Mars – Clip: Rocket – 1:58Â Roving Mars – Clip: Landing on Mars – 1:55Roving Mars – Clip: Behind the Landing – 1:35