Contest: Hot Fuzz On DVD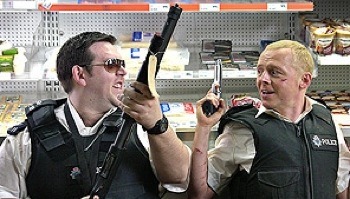 Hot Fuzz hit DVD store shelves on July 31st, and we have a copy for one lucky /Film reader. All you need to enter is to e-mail us with the reason why you should win. On August 9th we will e-mail the winner with the best answer. More information on the release can be found after the jump.
From Rogue Pictures and Working Title Films, and created by the same off-the-wall team that produced the wildly successful zombie laugh-fest Shaun of the Dead, Hot Fuzz puts a wickedly witty spin on action films.  An exciting and hilarious homage to buddy cop movies, Hot Fuzz reteams Shaun of the Dead stars Simon Pegg (Mission: Impossible III) and Nick Frost alongside a stellar acting ensemble that includes Oscar® winner Jim Broadbent (Bridget Jones's Diary), Timothy Dalton (The Living Daylights), Martin Freeman (The Hitchhiker's Guide to the Galaxy), Paul Freeman (Raiders of the Lost Ark), Bill Nighy (Pirates of the Caribbean: Dead Man's Chest), and Billie Whitelaw (The Omen). Director Edgar Wright (Shaun of the Dead) co-wrote with Pegg the fast-paced, uproarious script that doesn't hold back on the thrills or chuckles. This must-own DVD will satisfy action buffs and comedy fans alike with its thrilling car chases, spectacular shoot-outs and side-splitting irreverence, plus a barrage of never-before-seen bonus features.