Contest: John Woo's Hard Boiled And Last Hurrah For Chivalry On DVD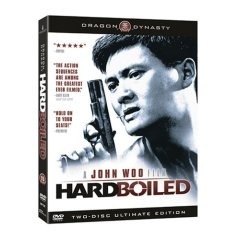 John Woo's Hard Boiled and Last Hurrah for Chivalry hit DVD store shelves on July 24th, and we have a copy of each for one lucky /Film reader. All you need to enter is to e-mail us with the reason why you should win. On August 5th we will e-mail the winner with the best answer. More information on the release can be found after the jump.
Revered by action connoisseurs the world over as one of the genre's quintessential artists, director John Woo (Face/Off, The Killer, M:I-2) elevated violence to an art form with masterful choreography and complex, multi-faceted anti-heroes.  Hard Boiled and Last Hurrah for Chivalry spotlight legendary martial arts stars and are jam packed with all-new bonus features including expert commentary, talent interviews, trailers, and much more!
"Hard Boiled"
A tough as nails cop teams with an undercover agent to shut down a sinister mobster and his crew.
Special Features:
· Feature Length Audio Commentary By Hong Kong Cinema Expert Bey Logan
· A Baptism Of Fire: A Featurette With Iconic Director, John Woo
· Partner In Crime: An Interview With Producer, Terence Chang
· Art Imitates Life: An Interview With Co-Star, Philip Chan
· Hard Boiled Location Guide
· Mad Dog Bites Again: An Interview With Leading Villain, Kwok Choi
· Hong Kong Theatrical Trailer & US Promotional Trailer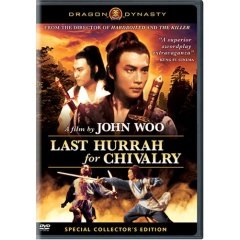 "Last Hurrah for Chivalry"
In one of his early films, acclaimed director John Woo crafts an action-packed tale of a son who recruits two master swordsmen to help avenge his father's murder.
Special Features:
· View The Film With Audio Commentary By Hong Kong Cinema Expert Bey Logan
· Pray For Death: An Interview With Fung Hak-On
· Deliver Us From Evil: An Interview With Lee Hoi-San
· Legendary Weapons Of China Featurette
· Original Theatrical Trailer & US Promotional Trailer