Friday Box Office: Rush Hour 3 Grabs $17.8M, On Track To $49.8M Weekend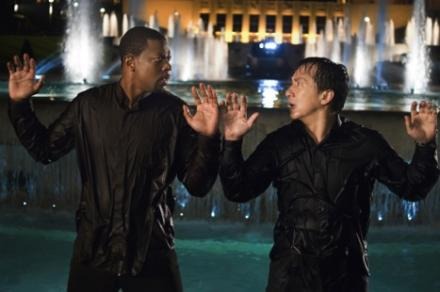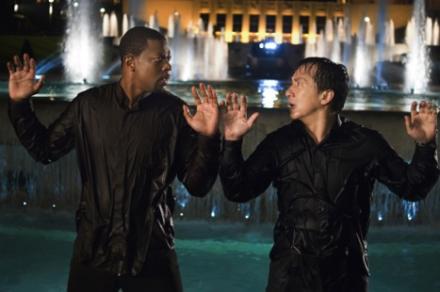 New Line's re-teaming of Chris Tucker, Jackie Chan and director Brett Ratner has proved worth every penny of its investment as RUSH HOUR 3 is officially a blockbuster. The action-comedy has grabbed an estimated $17.8M on its opening day, and that should translate to a 3-day haul of approximately $49.8M. That's less than RUSH HOUR 2's opening weekend of $67.4M back in 2001, but it's considerably stronger than the original 1998 RUSH HOUR opening weekend of $33M.
RH3 marks the 3rd best opening weekend of Ratner's career. For both Tucker and Chan, it is the all-time 2nd best opening, trailing only RUSH HOUR 2.
Last weekend's box office champion THE BOURNE ULTIMATUM (Universal) is holding exceedingly well with a $10.7M Friday, vaulting its 8-day cume to $109.3M. The Greengrass/Damon thriller is headed for a very strong second weekend in the $34M range. THE SIMPSONS MOVIE (Fox) grabbed $3.7M to kick off the weekend, and it will bank an estimated $12.3M by Monday morning, putting Homer and family above the $150M mark.
The $70M Paramount fantasy film STARDUST looks like a bust. From director Matthew Vaughn (LAYER CAKE), the movie has an excellent cast and terrific reviews (74% Fresh rating at Rotten Tomatoes and a solid 65% Postive score at MetaCritic), but it's a quirky picture and the studio never quite figured out how to sell it. STARDUST managed only $3M on Friday, and it will top out at approximately $9M for the weekend.
The other 2 new releases are full-on disasters. DADDY DAY CAMP (Sony) scrounged up just $1.35M to start the weekend, and its 3-day will be just over $4M. Meanwhile, the latest Lionsgate/After Dark exploitation/horror picture SKINWALKERSis making last month's CAPTIVITY look like a blockbuster. On just over 700 screens, SKINWALKERS generated just $185,000 on Friday, and its 3-day gross will be an estimated $500,000.
Read More at FantasyMoguls.com.