Kevin Smith To Direct Comic Book Movie... Super Max?
Clerks filmmaker Kevin Smith has revealed that he may be doing a Comic Book movie after all. Smith, was originally attached to write and direct The Green Hornet, bowed out after fearing that he would not be able to handle a big budget action movie. Of course, Smith has already lined up his next two films over at The Weinstein Co: a romantic comedy titled Zack and Miri Make a Porno, followed by a horror film titled Red State. But after that, Smith says he might do a superhero flick.
"I think that by that point, by my 10th film, I'll be ready to take on something that is very visually oriented," Smith told Wizard. "The 10th movie I think is going to be a comic book movie – not "The Green Hornet," though. There's something that we're kind of negotiating on right now which would actually be pretty cool. I don't know what the audience for it would be, but I would dig making it because I've always been a fan of the character. I can't say what it is though, because they haven't locked it in."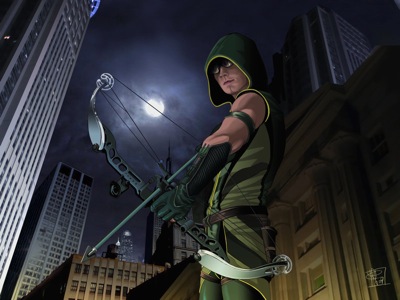 I wonder if the character in question could be Green Arrow.
UPDATE 8/9/07: Kevin Smith Responds to /Film: Not Directing SuperMax
As you may or may not know, David Goyer (Batman Begins, Blade, Dark City) has sold Warner Bros on making a movie based on the Green Arrow DC comics character. Super Max would follow a wrongly convicted Green Arrow as he is incarcerated in a super maxim security prison for out-of-control heroes and super villains. Arrow will come face to face with some of the people he put in the prison, while he attempts to make a prison break. Goyer has said that Arrow was chosen because of "his hard-hitting, moralistic tendencies, seemed like the most interesting hero to put through the institutional wringer." The project was being worked on by newcomer Justin Marx.
Kevin wrote a 15 issue arc for the rebirth of the Green Arrow comic book series for DC Comics in 2000. So he would be a perfect choice to pick up such a project. The project also falls into Smith's comment that "I don't know what the audience for it would be," as it's a very unconventional superhero story, at least for the big screen (a similar story was recently done in the Daredevil comic book series). And Smith's buddy Matt Damon has also been rumored [unsubstantiated] to be involved in the project. Super Max is also on track for a 2010 release, which would also fit into Smith's schedule.
Or may-be it's a completely unrelated superhero project that Smith is considering. Any ideas?