Rosario Dawson Ditches Kevin Smith's Zack And Miri Make A Porno For Eagle Eye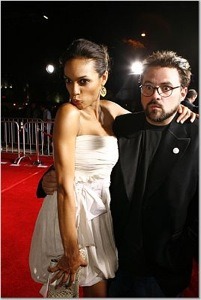 For months now we've told you that Kevin Smith wrote the lead role in his new comedy/drama Zack and Miri Make a Porno for Clerks II star Rosario Dawson. When we asked Rosario about the project at the Grindhouse junket, she pretended not to know much about it:
"I'm a rabid ridiculous huge fan of his and love him to pieces and would love to work with him again on anything. So I'll put that out there and hopefully it will get back to him."
We thought this was odd, because Smith had publicly stated that "[Dawson] knows I'm writing it and she knows there's a part for her." Well it now appears that Rosario has decided not to commit to the project. Could it be that bad? Or better yet, could a D.J. Caruso be any better? I think not.
"It's going to be a really interesting film. I don't think I'm going to be a part of it," Rosario revealed to MTV. "He wrote it for me, but I'm just signing on to do ["Eagle Eye"] and that's going to be shooting from November to March."
And last we heard, Zack and Miri starts shooting in January.
Eagle Eye is "a thriller from the mind of Steven Spielberg" about a young man (Shia  LaBeouf) and a single mother named Zoey (Michelle  Monaghan) framed as terrorists and forced to join a group with plans to kill a political figure. Spielberg has been developing the idea for about 8 years now.
Photo Credit: GenArt