Sydney White Poster And Movie Trailer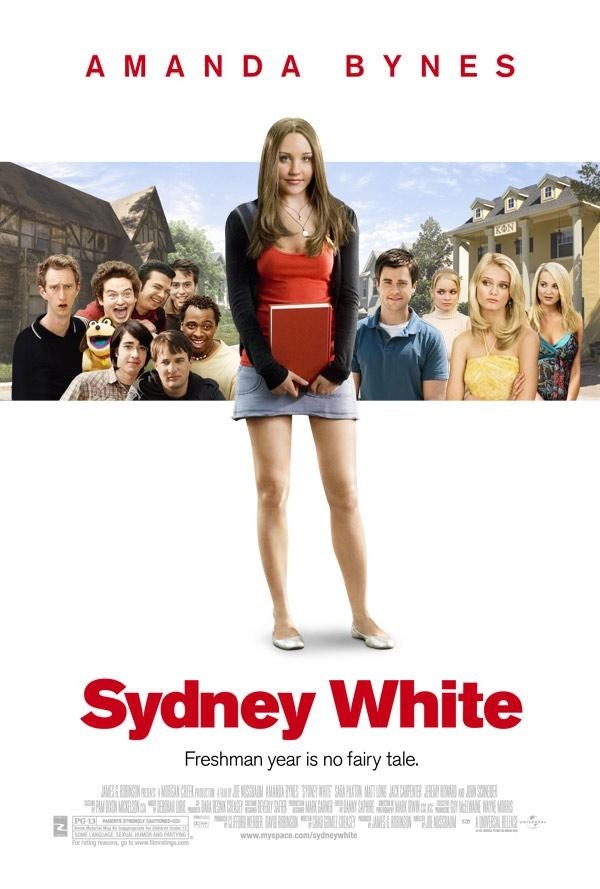 Okay, so I'm not as anti-remake or sequels as most critics. I'm probably the only one who was looking forward to Disturbia, D.J. Caruso's contemporary teen thriller remake of Hitchcock's Rear Window starring Shia LaBeouf. The teen audience certainly showed up in numbers and the movie was pretty decent to boot. But ever since the idea was first announced, I have expressed my distain for this teen romantic comedy adaptation of Snow White. Amanda Bynes headlines this debacle as Sydney White, a 20-year-old college freshman who pledges her late mother's once-dignified sorority, but finds a new home with seven outcasts and attempts to transform the school's misguided social hierarchy.
The movie trailer is now online, and it looks to be as horrible as possibly imagined. Does this film have any hope? Nope. But if it did, it would come in the form of director Joe Nussbaum. You may not reccognize the name, but you've seen his short film George Lucas in Love, which went viral on the internet before viral was a buzzword. Nussbaum disappointed many geek fanboys by going on to direct the John Hughes-esque pre-teen comedy Sleepover. 27-year-old first time feature film screenwriter Chad Creasey's biggest credit is assisting uber-screenwriter John August on his Sundance indie film The Nines. The movie will hit theaters on September 21st 2007. Click on the poster to the right to enlarge and check out the trailer after the jump.