Brett Ratner Defends Rush Hour 3 With Story Of His First Gay Blow-Job?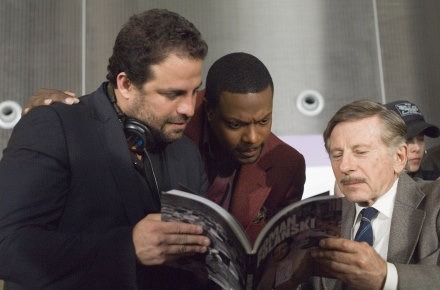 Apparently there is a scene in Rush Hour 3 where Chris Tucker has an angry homophobic reaction (played for laughs) to a transsexual who removes her wig after a "sexual interaction". I haven't seen the movie so I may be getting this wrong as the contents of the scene are not completely spelled out. When The Advocate questioned Brett Ratner about putting homophobic jokes in his film, the hack director responded by saying, it's okay because he's also had the same experience. Um, what?
"No, no! That's from my personal experience. My first blow job was from a man, but I didn't know it was a man. That's where that comes from. It's based on personal experience. It happens to a lot of people," claims Ratner. "I'm not homophobic or uptight about it. That happens to a lot of heterosexuals. You meet a girl in a bar, and it turns out she's not a girl. I think a girl should tell you if she's a girl or a man–that way it's your preference. It's comedy. Look, in this movie we don't pull any punches. We make fun of black people. We make fun of Chinese people. We make fun of French people. We make fun of gay situations. We make fun of whites. It doesn't matter. It's the type of movie it is. It's a fish-out-of-water comedy. You have to have those types of situations to have the comedy. That specific idea was because it's happened to me. It's happened to my friends. We'll get together with a girl, and it'll turn out to be a guy. The reaction is "Oh, shit!" if you're not gay, which is funny, I think. Getting into the situation is funny. I laugh whenever I see one of my friends talking to a girl, and I'll ask, "Is that a man or a woman?" It's funny, especially if you don't know about it. If you know about it, fine. If that's your preference... "
I'm not homophobic. I live in San Francisco and am am very liberal, yet at the same time, very politically incorrect. Personally I don't see the problem with a scene where a strait character has a post-homophobic response to gay sexual contact. Many gay advocate groups also had a problem with that Snickers superbowl commercial. When it's played for laughs and not hate, then I see no problem (at least in the situation as it was described to me). I could understand if people were upset in another situation, say... when a lead character reacts angrily to two gay men kissing or something to that effect. That's blatant hateful homophobic behavior which does not deserve screen time. Again, I have not seen Rush Hour 3 yet, so I shouldn't even have a right to defend the scene in question.
But what shocks me the most about this is that Brett felt the need to deflect the situation by saying the same experience happened to him personally. How does that help your argument? You're not homophobic but the character in your movie is?