August Rush Movie Poster And New Release Date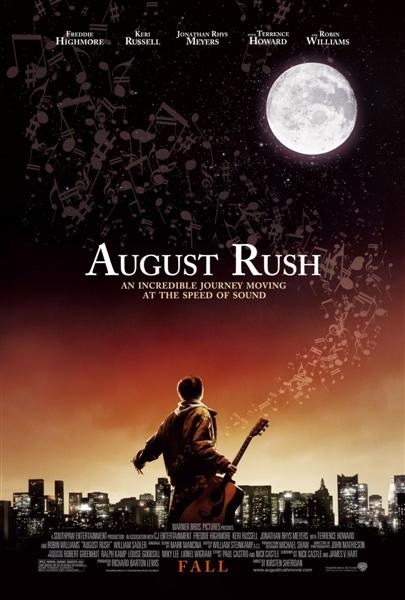 Warner Bros has pushed August Rush back from October 19th to Wednesday, November 21st.
The film will now go head to head with The Coen Brothers' No Country for Old Men, Paul Thomas Anderson's There Will Be Blood, the Jon Heder comedy Mama's Boy, and the Frank Darabont adaptation of Stephen King's The Mist. Seems to me that Warner has moved the film into a very unfavorable release date, which makes me wonder what the decision was made behind the scenes. Check out the film's new theatrical movie poster to the right. Click on the photo to enlarge.
August Rush is a music-driven drama. A charismatic young Irish guitarist (Jonathan Rhys Meyers) and a sheltered young cellist (Keri Russell) have a chance encounter one magical night above New York's Washington Square, but are soon torn apart, leaving in their wake an infant, orphaned by circumstance. Years later, performing on the streets of New York and cared for by a mysterious stranger (Robin Williams) who gives him the name August Rush, the child (Freddie Highmore) uses his remarkable musical talent to seek the parents from whom he was separated at birth.