A Guide To Recognizing Your Street Fighting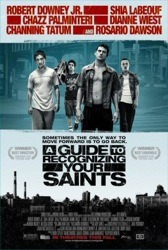 A Guide to Recognizing Your Saints director Dito Montiel and star Channing Tatum have signed on to reteam for an untitled feature film about underground street fighting for Rogue. According to Variety, "Tatum will play a young man scraping a living scalping tickets in Gotham who becomes involved in the underground sport after a chance encounter with a street-fighting coach."
Dito Montiel's feature film debut was based on an autobiographical book titled A Guide to Recognizing Your Saints, and played at the 2006 Sundance Film Festival. In my opinion, the film version is probably one if not the most underrated film of 2006. The film used a mix of experimental filmmaking techniques to submerse the audience into the period coming-of-age story.
Montiel has also written the screenplay for the street-fighting film. Tatum also starred in the popular dance film Step Up, and will appear in the upcoming Stop Loss. Shooting is scheduled to start in New York City in September.