Stephen Lang And Michelle Rodriguez Cast In James Cameron's Avatar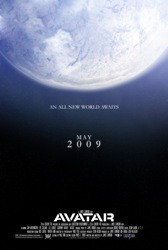 Stephen Lang (Gods and Generals, Gettysburg) and Michelle Rodriguez (Girlfight, Fast and the Furious, Lost) have joined the cast of James Cameron's $190+ million super-epic 3D performance-capture/live action/animation hybrid sci-fi film Avatar.
Written by Cameron eleven years ago as an 80-page treatment, Avatar follows a wounded ex-marine who is unwillingly sent to settle and exploit the faraway planet Pandora. When he gets caught up in battle for survival by the planet's inhabitants (called Na'vis) he unexceptionally falls in love with one of them.
Lang plays a seasoned Marine Corps colonel who travels to the faraway planet Pandora to take charge of its troops. And Rodriguez plays an ex-Marine pilot.
Previously: Australian actor Sam Worthington (Sommersault, Dirty Deeds) has been cast as the film's lead role, Jack Sully, after a global screen test search. Zoe Saldana (The Terminal, Pirates of the Caribbean: Curse of the Black Pearl) will play the local alien love interest. But the twist is that the alien woman will be a computer generated character. Cameron sees the film as a potential franchise and has signed on both actors for sequel options. Sigourney Weaver also has a role in the film.Avatar is currently filming in Los Angeles, and will be released in Digital 3D on May 22, 2009.