National Treasure: Book Of Secrets Movie Trailer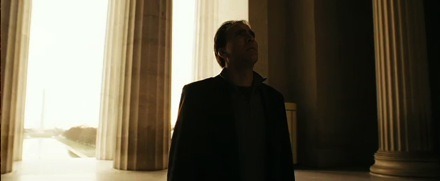 The National Treasure: Book of Secrets trailer which Disney premiered at Comic-Con 2007 is now available online. As we previously reported, the new trailer reveals a lot more about the plot of the film:
A missing page from John Wilkes Booth's diary reveals that treasure hunter Benjamin Franklin Gates (Nicolas Cage)'s great grandfather might have actually been the one responsible for Lincoln's assassination. Gates begins a mission to clear his family's name. To do that he must kidnap the president of the United States to get access to a secret book that is for the president's eyes only. The book also has the truth about Area 51 and the missing minutes in the Watergate tapes.
I really enjoyed the first film, but a plot that involves kidnapping the President of the United States seems way too ridiculous. Check out the trailer after the jump.
[flv:http://www.slashfilm.com/wp/wp-content/trailers/nationaltreasure22.flv 450 192]
You can also watch the trailer in High Definition on Apple.com. National Treasure: Book of Secrets hits theaters on December 21st 2007.