Rush Hour 4 Talk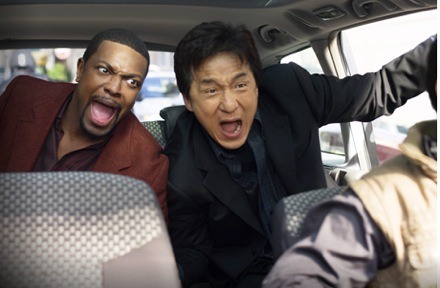 Talk has already begun about a possible fourth Rush Hour movie, further proving that their must not be a God, or at least one who cares about good movies. Director Brett Ratner introduced Rush Hour 3 at the Mann's Chinese Theater premiere on Tuesday with a joke: "I'd like to welcome everyone to the first production meeting of 'Rush Hour 4.'" But after the laughs subsided, and the film played, New Line Cinema Co-Chairman and Co-Ceo told Variety that he'd "love" to do another "Rush Hour". That's never a good sign, considering he's one of the big wigs that greenlights the production slate.
But another sequel will depends on how well Rush Hour 3 does at the box office. But considering a movie like Wild Hogs was able to sucker the American public out of $168.2 million, I'm sure Jackie Chan and Chris Tucker will have no problem. Unfortunately, mediocre movies that appeal to the lowest common denominator, while remaining family friendly, tend to make lots of money. It's a surprise to me that Tim Allen isn't the highest paid actor in hollywood.
It took three years for Rush Hour 2, and six years for Rush Hour 3 – let's hope that it takes at least 12 years for a Rush Hour 4 to hit the big screens. Actually, let's hope that a Rush Hour 4 doesn't ever hit the big screen. That's probably the best possible scenario. On a good note, if we can keep hack director Brett Ratnerbusy with the Rush Hour franchise, that at the very least means he won't have time to ruin any more X-Men films.