The Kingdom Movie Trailer #3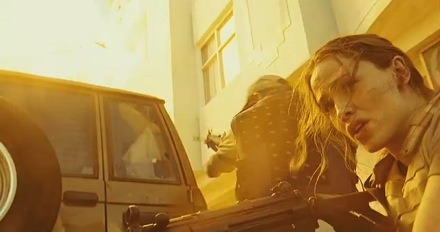 I remember when non blockbuster movies would get only one movie trailer. One chance to sell an audience. But today is a much different time. Universal has released a third movie trailer for Peter Berg's The Kingdom.
We've been following this one for a while now. The new trailer is a lot more flashy. It looks like a studio executive asked, "how can we make this film more accessible?" "I know, let's get that movie trailer voice-over guy to record some lines!" "We need more fast cuts." "Yeah, and we can also put some text on the screen!" "Yeah, stupid people like text on the screen."
But hey, I was sold on this movie long ago when I heard the cast listing: Jamie Foxx, Chris Cooper, Jennifer Garner and Jeremy Piven. The Kingdom follows a team of U.S. counter-terrorism investigators set out to find the perpetrators behind a deadly attack on Americans in a Middle Eastern country. In order to work through the bureaucracy and cultural hostility, the team enlists a local police officer, but still find itself target for the terrorists. Check out the new trailer below.
[flv:http://www.slashfilm.com/wp/wp-content/trailers/thekingdom3.flv 450 240]
Yahoo also has the trailer available in High Definition. The Kingdom hits theaters on September 28th 2007.