Box Office: The Simpsons Aims For $55 Million Weekend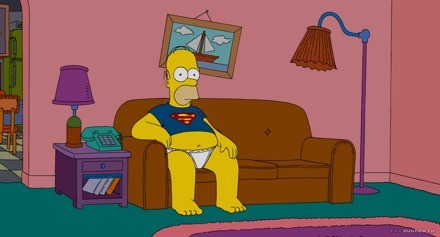 The Simpsons Movie debuts today in just under 4,000 locations, and, to me, the question is "Will this be a $10 experience?" After 19 years and 400 episodes, how many jokes remain untold? We're about to find out.
After averaging 13.4 million viewers per episode back in season 1, the TV series on Fox declined to an average of 9.2 million viewers per episode in its 2004-2005 season. That made it the 50th-best rated TV program out of 156 total shows. In the just completed 2006-2007 television season, The Simpsons finished #60 according to Nielsen (out of 142 shows). That's an average of just 8.6 million viewers per episode. Although this long-running show remains a staple on Fox, it is certainly well-past its prime.
Congratulations to Fox for pulling out every trick in the book to market this movie â€" from the official Springfield contest to the transformation of select 7-11 stores to Quick-E-Marts. Thanks to all of that clever "elbow grease," The Simpsons Movie has a Total Aware of 87% according to industry tracking. That's considerably better than 2007 animated films like Meet the Robinsons (75%) and Surf's Up (58%), but a notch below the major summer tent-pole movies like Spider-Man 3 (98%), Pirates of the Caribbean: At World's End (99%) and even Fantastic Four: Rise of the Silver Surfer (92%).
Un-Aided Awareness, the industry tracking measure of buzz and anticipation, is running at only 12%, a rather unspectacular number. For comparison, Fantastic Four 2 went off with 15% in that column, Spidey 3 opened at 41% and Pirates 3 at 49%,
Probably, the best film to use as a gauge to how big The Simpsons Movie will open is Shrek the Third (Dreamworks/Paramount). Based on these numbers, I'm targeting The Simpsons Movie at $52M-$55M this weekend, which is considerably higher than the tracking services are calling for. I'm told that NRG is calling for $40M, MarketCast is calling for $40M and OTX forecasts $38M. I say The Simpsons Movie opens with $20M+ today, but it will be very frontloaded.
I go on to write that No Reservations will finish at about $12.5M and Who's Your Caddy? and I Know Who Killed Me will both finish the weekend with $4M-$5M.
You can read more at FantasyMoguls.