Get Smart Video Clip Premieres At Comic Con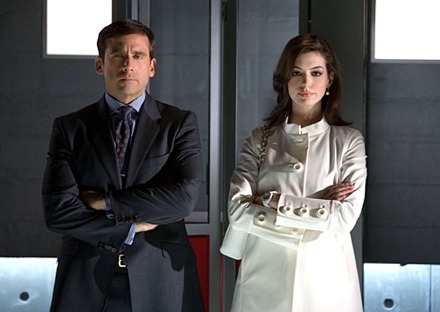 Director Peter Segal, stars Steve Carell, The Rock, Masi Oka, Ken Davitian, and Nate Torrence were in attendance to debut the first video clips from the big screen adaptation of Get Smart during the Friday morning Warner Bros panel at Comic-Con 2007.
The clip begins with a voiceover telling us that "There has always been a delicate balance between Kaos and Control. Now with that balance threatened, its time to turn to one man. Cut to Steve Carell as Maxwell Smart. Anne Hathaway as Agent 99 comes up to him from behind with a gun and shouts "Freeze!" Carell replies "No you freeze" "What? You can't do that?" We then see a montage of humorous clips including but not limited to Smart's car stalling while he's on a mission. Agent 99 and Smart running down the street, climbing through air-ducts, crashing into a building, a fight in control headquarters. We got a few glimpses of Ken Davitian and The Rock in action. Max and 99 are in a closet at a party:
"Did you see anything while i was dancing," Agent 99 asks.
"Just once but i didn't expect them to lift you so high," replies Smart.
The clip finishes with Smart in a jet fighter puking while it does a barrel roll.
The crowd laughed out loud a bunch of times during the clip. I predict that this film could be the next Austin Powers and really take off huge. It has that potential. And for fans of the classic tv series, it looks like they are doing this thing right. They revealed that both Hymie the robot and Agent 13 are in the movie.
"I got to wear clothes [in this movie]" commented Ken Davitian, who was of course very naked in Borat.
"Thank god," quickly snapped The Rock, who in this film plays Maxwell Smart's mentor, a character that was not featured in the television series.