Spy Photo: Cloverfield 1-18-08 Movie Poster?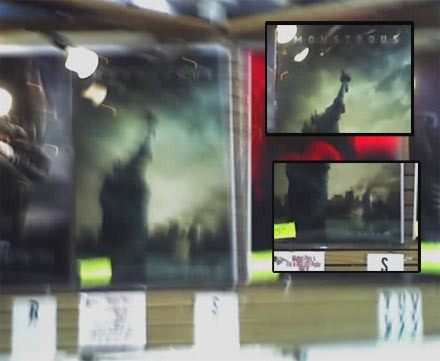 Some photos of what appears to be the theatrical teaser poster for JJ Abrams top secret monster flick which is code-named Cloverfield. The unfiction forum user took the pics with a Motorola V3 camera phone at Frank & Son's warehouse sale. The poster depicts a headless statue of liberty overlooking New York City. The top of the poster has the text "MONSTROUS". The lower right corner supposedly has the date "1-18-08". We have no idea if this poster is real or fan created. There is also a third possibility, it could be a third party knock off which is trying to take advantage of the tremendous buzz. One thing is for sure, with Comic Con later this week, we'll finally learn the name of movie. Let's all pray it's not "Monstrous". It's more than likely that Paramount printed up some mini teaser posters for the event like they did last year with Star Trek 11.
Update: It appears that Paramount Pictures bought the domain name TheMonstrousMovie.com on June 8th. So the poster is probably real, although I still refuse to believe that "Monstrous" is the film's title.
Also, check out the behind the scenes Cloverfield spy footage we posted yesterday.