First Review Of The Simpsons Movie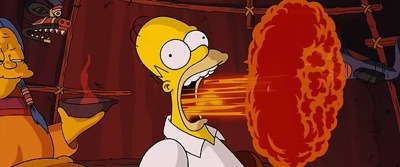 It seems like 20th Century Fox are so nervous that bloggers might post an early review of one of their upcoming big budget films that they've forgotten that the main culprit is actually the print media. The London Times have published their review of The Simpsons Movie yesterday, a full five days before the film hits theaters. Yet bloggers and website based critics will have to wait until Thursday night to watch the flick.
The good news is that Springfield Vermont correspondent James Bone says the film is "a postmodern parable about an environmental scare that is at the same time hilarious and horrifyingly poignant." The four out of five star review claims the film boasts "the same sly cultural references and flashes of brilliance that have earned the television series a following that ranges from tots to comparative literature PhDs."