Disney To Remake Escape To Witch Mountain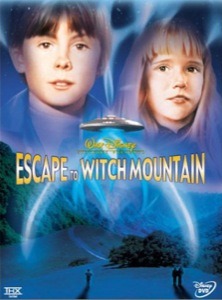 Good News, Bad News.
Good News: Walt Disney Pictures is remaking Escape to Witch Mountain.
Bad News: They are letting the guy who made She's the Man and The Game Plan (which almost seems to us like Mr. Nanny with The Rock instead of Hulk Hogan) and a 2003 direct to video movie titled Who's Your Dady? direct it. On the other hand, Andy Fickman did made Reefer Madness: The Movie Musical, a nice little musical comedy which I caught at the 2005 Sundance Film Festival and was shortly after dumped on Showtime (Kristen Bell and Neve Campbell star). So Fickman is capable of making a good film. But what are the chances that Matt Lopez (The Wild) has provided good source material.
The original Escape to Witch Mountain (1975) was based on the sci-fi novel by Alexander Key. The movie followed two mysterious orphan children who have extraordinary powers and are chased by a scheming millionaire with plans to exploit them. The film spawned one sequel (Return from Witch Mountain in 1978), one spin-off tv movie (Beyond Witch Mountain in 1982) and was remade for tv in 1995.
I vaguely remember loving the film during my early childhood, but IMDB's 6.0 rating makes me wonder. I have been disappointed so many times by movies I once loved as a kid, after re-watching them as an adult. I'm sure many people of this next generation may suffer the same experience with She's The Man. How sad.