Moving McAllister Movie Trailer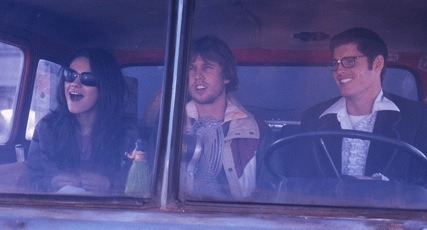 Moving McAllister is one of those road trip indie comedies that is written by its main star.The official plot synopsis reads:
Rick Robinson is a ladder-climbing law intern from Miami with four days until the Bar Exam. Desperate to score points with his boss (McAllister), he commits to a favor he can't afford. He ends up in a rundown truck headed to L.A. with his boss's possessions, his Hollywood-bound niece, and her pet pig. Amidst hitch-hikers, breakdowns, and assorted local yokels, Rick finds love, life and maybe himself in this trans-American road trip from hell.
The movie trailer starts off like Office Space and transitions into the road trip segment of Dumb and Dumber. The movie also features Jon Heder of Napoleon Dynamite fame. And any movie trailer that features a Flaming Lips song can't be that bad. The film had apparently had a couple screenings at the Cannes Film Festival and has garnered a 7.9 user rating on the internet movie database. But 12 votes is not a very good indication. Final decision: Probably worthy of a saturday night dvd rental. But don't take my word for it, check out the trailer after the jump.
[flv:http://www.slashfilm.com/wp/wp-content/trailers/mcallister.flv 320 240]