David Duchovny Says X-Files Sequel Moving Forward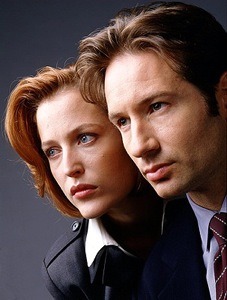 An X-Files sequel might actually happen after-all. I know, I know, we've said this before. Show helmer Chris Carter has said this before, and the stars have SAID – THIS – BEFORE. But this time it might be for real. Series and film co-star David Duchovny made an appearance for his new Showtime series Californication during the Television Critics Association press tour, and revealed that a script and tentative production schedule is already in place.
"I'm actually supposed to a script next week! Before I would just say that [there was a movie] because they told me, but now, after talking to Chris [Carter] — he's been giving me progress reports — and he actually called yesterday, and said 'Next week, you should have something to read.'" Duchovny said at the Beverly Hilton in Beverly Hills. When asked if it would be a stand alone story, David replied: "It should be. It should be a one-off, yeah."
Duchovny also revealed that the current plan is to start shooting in November 2007 for a Summer 2008 release. I'll believe it when I see it. I didn't follow the show but enjoyed the first film. This seems to be a reoccurring occurrence for me (and many of the people I know). Another example would be Star Trek (I've seen and enjoyed most of the movies, didn't watch the series). But many people loved this show, and I can see why. I'm currently watching The 4400 which many people usually compare to X-Files. Although some people would probably say that it's becoming more X-Men than X-Files as of the last season. Thanks to IGN and THR for contributing to this story.