Kevin Spacey Returns For Superman Sequel, Singer To Film Castro First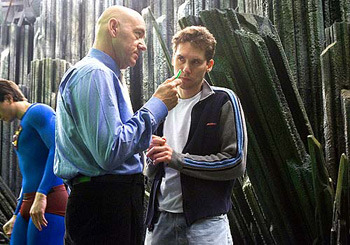 Bad News: It looks like Bryan Singer will be filming The Mayor of Castro Street before the Superman Returns sequel after all.
Good News: This morning it was announced that Kevin Spacey has signed on to return as Lex Luthor in Superman: Man of Steel.
Spacey hopes to shoot his part during a six-week block, as he did on the first film, after he completes his run in David Mamet's "Speed the Plow" in April. Variety confirms that Singer will direct Castro next before going into production on Man of Steel early next year. A June 2009 release date had been previously announced, but who knows if they will be able to meet that now. I'm just glad they are making a sequel to Superman Returns as it wasn't as financially successful as they would have hoped. I was in the faction that loved the film. Did it need more action? Sure. But this was not that type of story. But don't worry, Singer has promised to go all "Wrath of Khan" in the sequel.