New Bill & Ted's Adventure Without Keanu Reeves And Alex Winter?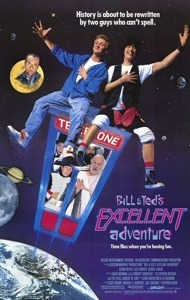 Bad News: MGM Studios and 360 Pictures have joined forces with horror producer Frank Mancuso Jr. to make a sequel to the Bill and Ted movies. But it gets even worse, if that's possible. The new movie will not see the return of he original leads Keanu Reeves and Alex Winter. Both stars had made comments in the past suggesting they would be interested to reprise their roles, but according to the The Los Angeles Times, "Reeves' agent advised him against it because he was concerned it would ruin his career." Writers Gabe Grifoni and Suzanne Francis (Wieners) have already turned in an outline for the straight-to-DVD feature.
The Bill and Ted series followed two teenagers who traveled through time using a worm-hole traveling phone booth. The first film, Bill & Ted's Excellent Adventure was actually a pretty clever comedy. The 1991 sequel, Bill & Ted's Bogus Journey – not so much. The new Bill and Ted film is said to be going into production later this year. No word on if George Carlin will return as Rufus. We're also not sure if this will be a sequel, remake or complete spin-off. Why must the studio continue to rape the movie franchises from our past for a quick DVD buck?